Chiang Mai's way,
living Life of local
JC Tour Chiang Mai or Chiang Mai Tour with JC Tour is the best thing to do in the northern part of Thailand. JC Tour-Chiang Mai is the local tour provider in Chiang Mai, around Chiang Mai or every tour in the north.
Being Chiang Mai people, unique tour route, unseen places and simple fun.

Jc.Tour Chiang Mai needs to show "how the real local people (Chiang Mai people) live their life". We set up this trip for the tourists who need to touch the local people's way of living life, for sure it is very far from the tourists' way. It must be much safer, easier, simple, nicer and more fun. The below highlighted pictures are part of the program. We highly recommend you to see all of them as well as read the draft itinerary, before submitting the booking to "Chiang Mai People with us."
Please see the highlighted pictures and read the brief program before submitting the booking.
All kinds of local transportations, those we have to use in the program. For sure you will be fun with being local people passenger
Ping river is a part of Chiang Mai people. Chiang Mai city is located here because of this large river. We are going to discover this river by local boat – being the local Chiang Mai people.
Pra-Singh temple is the one of Chiang Mai proud, buddhist around Thailand never miss to visit this temple if they visit Chiang Mai. And why do we miss it?
Local market sells the local products to the local people at the local price. You can see the local products of Chiang Mai people from every area of Chiang Mai province, all of them for sale. "funny shopping with the local traders"
Taste Chiang Mai food at the local food restaurant- Hurn Pen restaurant. You will never miss hope with our lunch.
Brief programs

| | |
| --- | --- |
| 08:00 AM: | We pick up from the hotel by Local style car. |
| 09:00 AM: | We arrive at the pier, we go onboard and start to cruise along "Ping river" to see the local people's life on the river side as well as a nice view along the way. |
| 10:00 AM: | We arrive at Baan Chow Na or rice farmer house in English, we meet and see the old fashion equipment for rice farming. |
| 11:00 AM: | We cruise to the biggest real local market, Waroroj market. To see what and how to buy the things for their life daily, seeing the rare products- foods, vegetables, meat from the forest, local sweets etc. Something you have never seen in your life or never tried before. |
| 12:00 PM: | We change to another vehicle – called Sam-Loh for you (another kind of local taxi) and slowly drive to have lunch at the most popular northern food restaurant – Huen Phu Chiang. Enjoy the menu of northern food, you will love this lunch. |
| 13:00 PM: | After lunch, we slowly drive by Sam-Loh along the original Chiang Mai Tha-Pare road. By the old style of your Sam-Loh, you can see every square meter of road's view. As well as, we will pass the old wall of Chiang Mai city – it is a place in the national conservation lists. |
| 13:30 PM: | We arrived at the oldest and most important temple of Chiang Mai, Wat Pra Singh temple. In the temple, you can see the old beautiful Thai architecture building as well as the oldest mural painting. |
| 15:00 PM: | Another kind of local transport taxi – Lanna Tuk Tuk picks you up back to your hotel. |
Remark: and by this moment, you have used the service of ChiangMai town taxi, Lanna style boat, Samloh Taxi and Lanna Tuk Tuk. What is the best for you?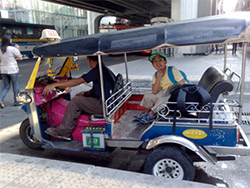 Price: as private trip only

| | |
| --- | --- |
| 2,900 Baht/person | (The minimum 2 people booking) |
Price includes
All kinds of transportation on the trip. Chiang Mai taxi, boat, Sam-Loh and Lanna Tuk Tuk.
Transportation from your hotel.(Chiang Mai town only)
Soft drinks box (drinking water, Coke and Fanta)
All entrance fee to the places of tour program
Northern food lunch
Private English tour guide
Insurance 200,000 Baht/person.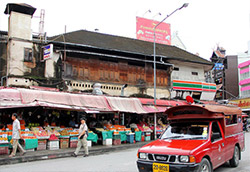 ---
Why Jc.Tour?:
Jc.Tour had registered for Tourism Company under the rule of Thailand Law: Both Outbound(31/01235) for around the world travel. Inbound(34/00235) for traveling in Thailand.
The right registration can be checked, and you can check for Jc.Tour at http://www.tourism.go.th
Jc.Tour is the Top Responsible and Great Service in TripAdvisor Rank.
Jc.Tour has been registering for Accident Insurance all around the world (Inbound: for travelling in Thailand and Outbound for around the world travelling). This makes sure that all the customers of JC Tour will be covered by Insurance in everywhere of the world they reach.
Before, During and After the service, you can contact us 24 hours.